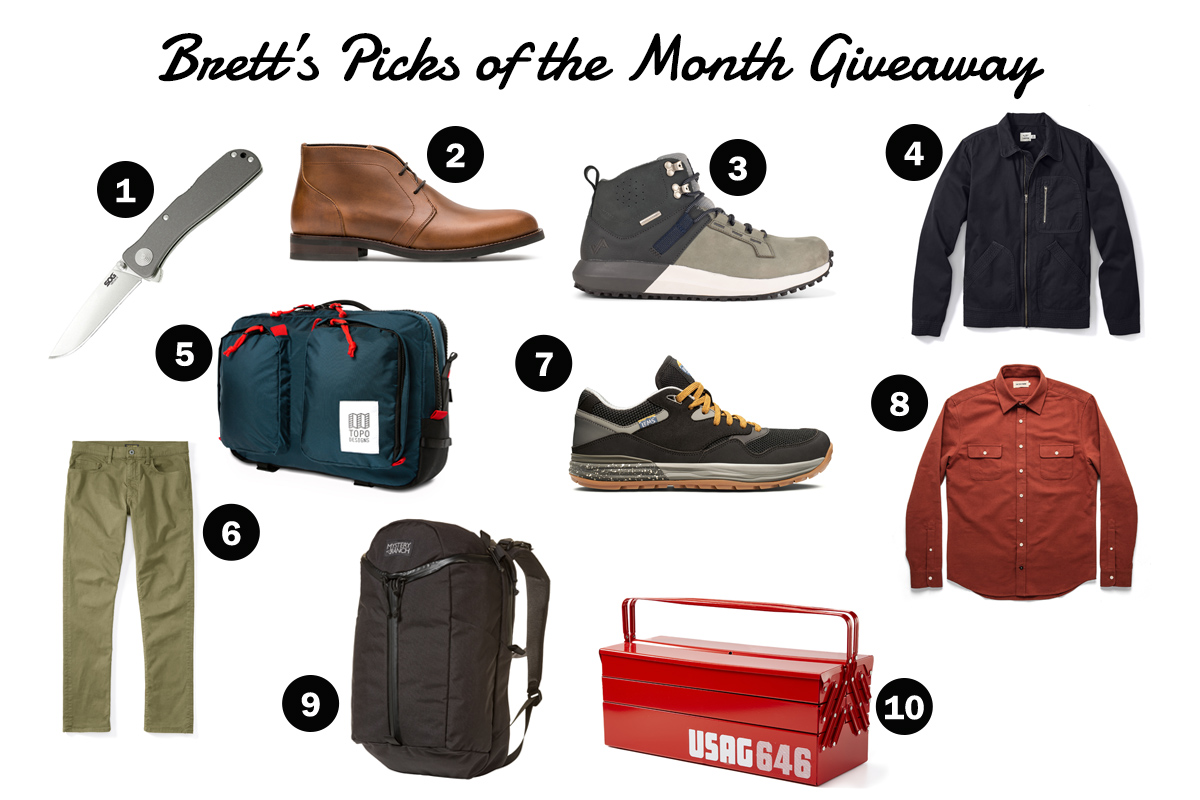 Below you'll find some of my favorite recent offerings from Huckberry. Enter the giveaway to win any of these items, or anything else available in their store (up to a value of $500).
My Picks This Month
1. SOG Knives Twitch II. Weighing in at just 2.6oz and with a 2.6″ blade, this compact knife is perfect for your pocket. The military-grade materials ensure that its small size doesn't make it any less effective.
2. Rhodes Felix Chukka. Each pair of these chukkas is expertly handmade to exacting standards from fine calf leather that gets better with every step you take — and they're fully resoleable to boot. 
3. Forsake Range Hiking Boots. Combining the best features of sneakers and hiking boots, these Range hikers are waterproof but breathable, durable but lightweight. Perfect for adventures both near and far.
4. Flint and Tinder Flight Jacket. A classic Air Force flight jacket — made famous by the likes of Chuck Yeager and Neil Armstrong — rebuilt for maximum breathability. No more wondering if it's "jacket weather" outside, because with this coat, it's always jacket weather. 
5. Topo Designs Global Briefcase. Using the same style, materials, and quality construction as their famed backpacks, Topo has created this versatile briefcase. With three ways to carry it, and a laundry list of handy features, this bag can accompany all your travels — whether commuting to the office or flying cross-country. 
6. Flint and Tinder 365 Pants. Combine your favorite tailored chinos with the stretch of a performance pant, and you get the 365 Pant — a pant so comfortable, you'll want to wear them every dang day of the year. 
7. Lems Shoes Trailhead. Although named the Trailhead, this shoe is built for any activity you can throw at it: hiking, running, biking, heck even grocery shopping. If you're traveling light and only want a single pair of shoes, the Trailhead is your choice. 
8. Taylor Stitch Yosemite Shirt. As fall approaches, you want a shirt that can handle all the elements. The Yosemite is that shirt. Made with heavy-duty chamois (which in cloth form is tightly-woven cotton), you'll be warm and cozy no matter the situation. And the tailored fit makes sure you look good, too.  
9. Mystery Ranch Urban Assault Pack. Inspired by military assault rucksacks, this bag represents the epitome of clean, functional design. What makes it truly unique is the 3-ZIP closure that makes everything easily accessible no matter what kind of load is being carried.
10. The Workman's Toolbox. An old-school, three-tiered toolbox built by Italian craftsmen. The hardy construction means it will live happily for years to come in your garage, pick-up, or any other environ. Lightweight materials and an elongated handle make for easy carrying as an added bonus.  
The Prize
Any item currently available on Huckberry (up to a value of $500). Be sure to check out the current line-up of items as it changes every week.
Enter the Giveaway 
If you are an email subscriber, do not reply to this email to make your entry. You must click on the title of this post, which will take you to the post on our web page where you can make your entry. Use the form below to enter. Don't forget that you have multiple ways to enter! The more of them you do, the better your chances are! 
Monthly Huckberry Giveaway: Sept '19

Deadline to enter is Friday, September 20th at 11:59PM (CT). We'll then select one random winner. Good luck!
The post The Monthly Huckberry Giveaway: September 2019 appeared first on The Art of Manliness.